Race Date: 23rd October, 2022 (Sunday)
Location: Belong, Asajaya
Car parking will be at Pengkalan Beliong, Kampong Apong Road, Asajaya
Start / finish at Beliong Temple, Asajaya, Semarahan

Secure storage will be provided for personal belongings
River Crossing at Pengkalan Beliong (Beliong Jetty)

A 15-minutes River Crossing is required to access the start line at the Beliong Temple. Free Ferry Boat Crossing Coupon (Return Trip) will be provided during the race pack collection.
Please note that due to the limited number of local boats available, congestion is expected at the start of each race. Please arrive at the Beliong Jetty at least one hour before the start of your race to avoid missing your starting flag-off.
Preferential crossing will be given by the Boat Marshall to participants in the next race category (determined by your race number).
Number of participants for 2022: – limited to a maximum of 450 Malaysian and International participants.
The organiser will not be held responsible for any late arrival to the start line .
Google Map link of Pengkalan Beliong: https://goo.gl/maps/i9u9fsiYBbpZXRRSA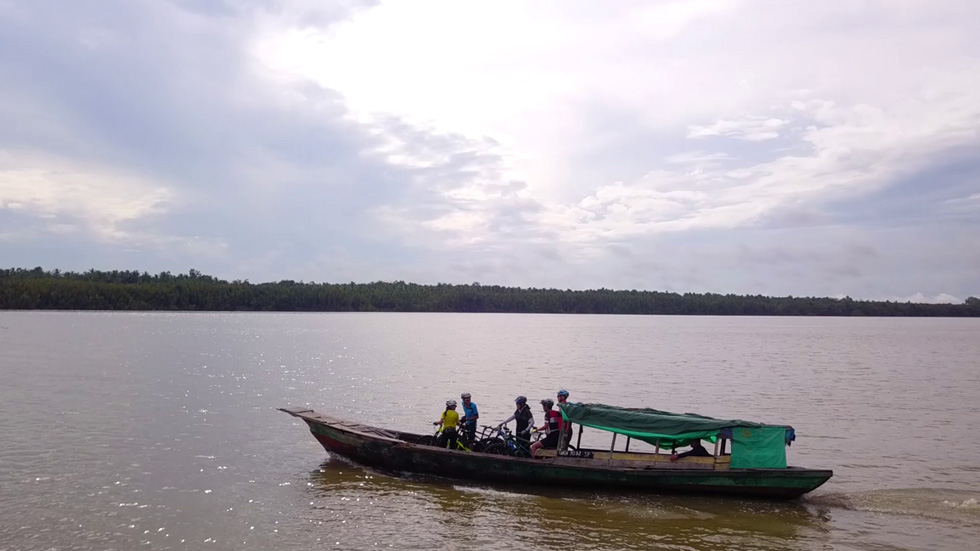 Accommodation: If you wish to stay in the area, there are some hotel / homestay options available around Samarahan.
Sadong Jaya
Samarahan
Race Pack Collection Day
Saturday (22nd Oct)
11:00 AM – 5:00 PM
Race pack collection in Kuching @ Paradesa Borneo (No. 1, Wayang Street) between 11am and 5pm.

Note: Race pack collection is compulsory for all participants to collect electronic timing chips.
Event Day
Sunday (23nd Oct)
6:30 AM
Ferry boats on standby at Pangkalan Beliong (Free Traditional Boat Crossing Coupon (Return Trip))

Car parking @ Pangkalan Beliong  
7:30 AM
Sign-in and timing chips activation at the registration desk located @ Beliong Temple Hall for Duathlon categories (Categories A, B, C). Please arrive early to the jetty to ensure you have ample time to cross the river and register. Transition area (at Beliong Temple) is open to drop off gear for all Duathlon participants.
8:00 AM
Duathlon (Categories A, B, C) Flag-Off in Stages
8:10 AM
Sign-in and timing chips activation at the registration desk located @ Beliong Temple for Trail Run categories (Categories D). Please arrive early ato the jetty to ensure you have ample time to cross the river and register. There will be a secure bag drop area for your belongings.
8:30 AM
Trail Run (Categories D) Flag-Off in Stages
8:40 AM
Sign-in and timing chips activation at the registration desk located @ Beliong Temple for MTB categories (Categories E, F). Please arrive early to the jetty to ensure you have ample time to cross the river and register. There will be a secure bag drop area for your belongings.
9:00 AM
MTB categories (Categories E, F) Flag-Off in Stages
1:00 PM
Cut off time for MTB section of Duathlon (Categories A, B, C) – competitors arriving after 1300 hrs will not be allowed to continue to Stage 2 Trail Running section.
1:00 PM
Award presentation – Single Sport categories (Categories D, E, F)
2:00 PM
Award presentation – Duathlon categories (Categories A, B, C)
1:00PM – 4:00PM
Transition Area Open – Bike Collection for Duathlon (Categories A, B, C)