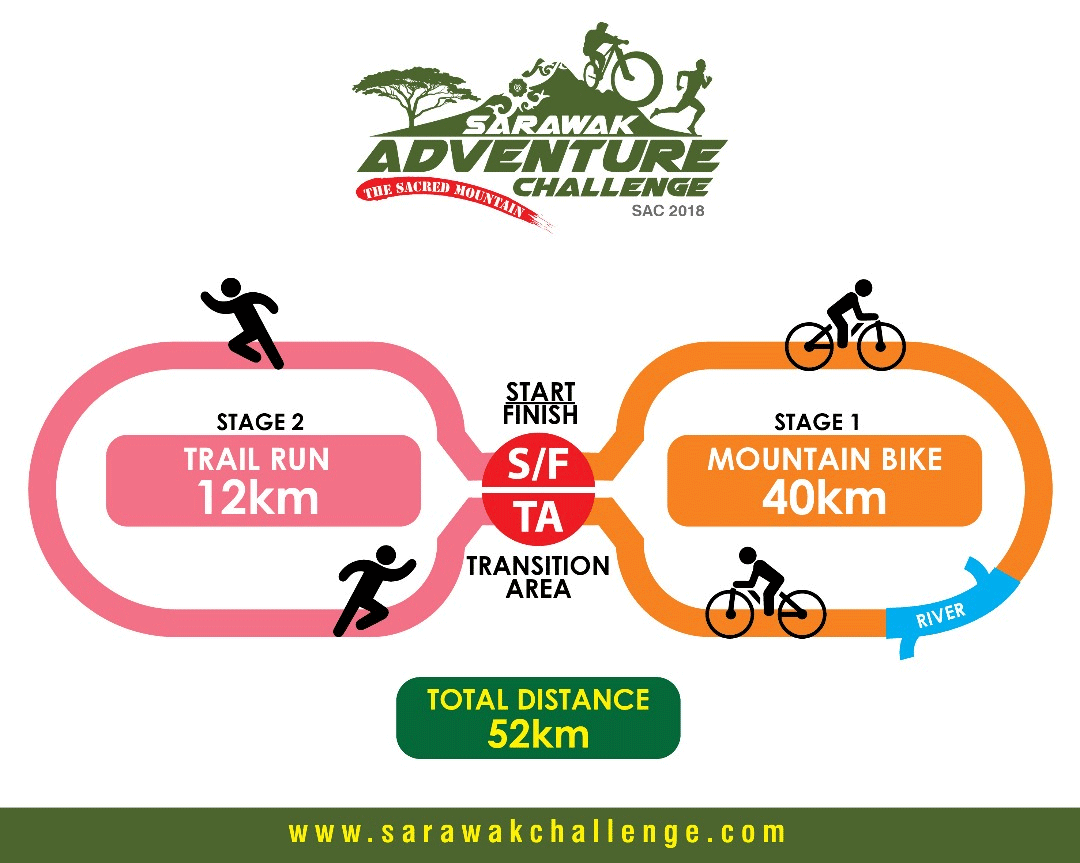 TRAIL UPDATE: For safety and logistical considerations, some modifications have been made by the organiser.
40 km MTB (Stage 1 of Duathlon)
Rolling start – riders will be led out by a marshall vehicle for approximately 1 km to the start of the mountain bike section.
The mountain bike stage will cover a variety of terrain over 40 km. The first section is along a winding village road that connects the communities near Mt Singai. Following an ascent through one of the communities, the single track commences. What follows is a series of technical, twisty single track trails passing through farmland and alongside forest covered rivers. This terrain tests the legs on the climbs and the skills on the descents. For the second quarter, there is no one big hill, but plenty of of small ones. The trails along this section are single track through old secondary forest, rubber gardens and other farmland. The track can be muddy and has lots of roots to keep your attention. This is off-road terrain and there will be a couple of river crossings requiring a hike-a-bike. The 3rd quarter of the ride takes on a challenging old logging track followed by a technical downhill where caution is required. This is followed by a scenic jungle single trail that leads back out the village roads. The final quarter includes a hill to test tired legs before the final stretch to the finishing point (for the individual MTB event) and the transition area (for the Duathlon events). There will be two water stations.
12 km Trail Run Section (Stage 2 of Duathlon)
The trail run will introduce you to the historical villages of Singai. Included at the beginning of the run
w
ill be a special (mandatory) challenge that will test your teamwork and at the same time provide some community assistance. Details of these challenges will be provided during the pre-race briefing.
Much of the trail run will be on jungle paths where the terrain will be uneven with lots of roots, rocks and steep descents and climbs so caution is required during the run. Much of the trail is forest covered and there will be small stream crossings where you might get wet. Some scrambling across rocky stretches and steep descents will be required. The run will follow jungle trails before emerging onto the village road for the run back along the same road used for the start of the MTB section (except this time going the opposite direction) to the start / finish. There will also be two water stations; the first at approximately 5 km and the second at approximately 9 km.
Trail Information
Sections of both the MTB and Trail Running stages pass through areas of mature rainforest. As the name implies, these areas can be wet with lots of leaf litter and a closed canopy overhead. Leeches are not unheard of and testimony to the wildlife that can still be found in these areas.