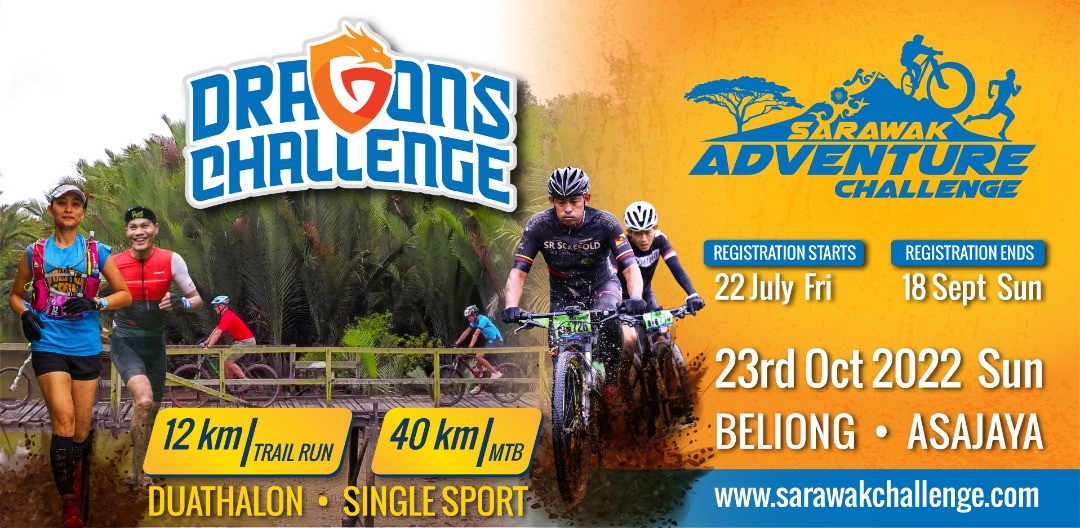 We Are Back!
The Sarawak Challenge is back and ready with a new trail to test your endurance and take you to parts of Sarawak that you might not have seen before. This sixth edition continues as a one-day multi-sport adventure race showcasing some of the best rainforests, rivers, trails and sites including (for this year) some of Sarawak's fascinating history.
The venue for the start of this year's race is Beliong in Asajaya, located some 38 km from Kuching. The race theme is "The Dragon's Challenge": Beliong in the local Chinese dialect means "kiss of the dragon" and this year's event highlights the communities and scenery of this island on Kuching's doorstep. Culture and history aside, the area provides a beautiful backdrop for the XC MTB and some great trails for the event running categories.
Very near to Kuching, yet isolated on an island, Beliong is home to three vibrant communities, each with their own cultural expressions. More recently, the impressive Chinese temple there has become a local attraction for devotees and local tourists alike. Perhaps lesser well known are the numerous trails and trekking opportunities that link the various communities and the numerous orchards, farms and plantations on the island. The SAC 6.0 will feature all these attractions as competitors cover the extensive trail and road network including:- Beliong town (start / finish), Chinese, Iban & Malay communities, traditional river crossings, fruit orchards, as well as MTB and Running Trails.
To encourage more participation, the SAC has expanded the number of race categories. For 2022 there will be 14 race categories including the signature Duathalon as well as Sprint Duathalon, individual MTB, Trail running and veterans events. The registration Cut-Off date is 18th September 2022 (Sunday).
KEY DATES
22nd July (Friday): Event Launch / Registration Starts
18th September (Sunday) Registration Ends
22nd October (Saturday) Race Pack Collection in Kuching
23rd October (Sunday) Event Date (8:00 am - 15:00 pm)
Special Note:-
Please note that there is no vehicle access to Beliong and getting to this year's event and the starting line requires a river crossing using the local passenger ferries. Due to the limited number of local ferry boats available, we want to avoid congestion before the start of each race. We ask that competitors arrive at least one hour before the start of your respective race event to avoid missing your starting flag-off. For 2022, the number of participants will be limited to a maximum of 450 Malaysian and International participants. The organiser will not be held responsible for any late arrival to the start line. For more information, please check out the
Venue section
.

Throwback - SAC 2021: Evolution Trail