Coming soon, 2018 SAC 2.0 Registration
For SAC 1.0, there are 2 race categories available: (A) Team of 2 (Mixed); and (B) Team of 2 (Men). This is a team event – not a relay race – so both team members have to finish together. The time for the last person crossing the finish line will be the team's finishing time.
Category
Early Bird
(12 May – 31 July)
Normal
(1 Aug – 5 Sept)
(A) Team of 2 (Mix)
RM320 / Team
RM420 / Team
(B) Team of 2 (Men)
RM320 / Team
RM420 / Team
RM – Ringgit Malaysia
Total Distance: 55KM** (1 Day Race)
Discipline: Mountain Biking, Trail Running, Cave Run

**subject to change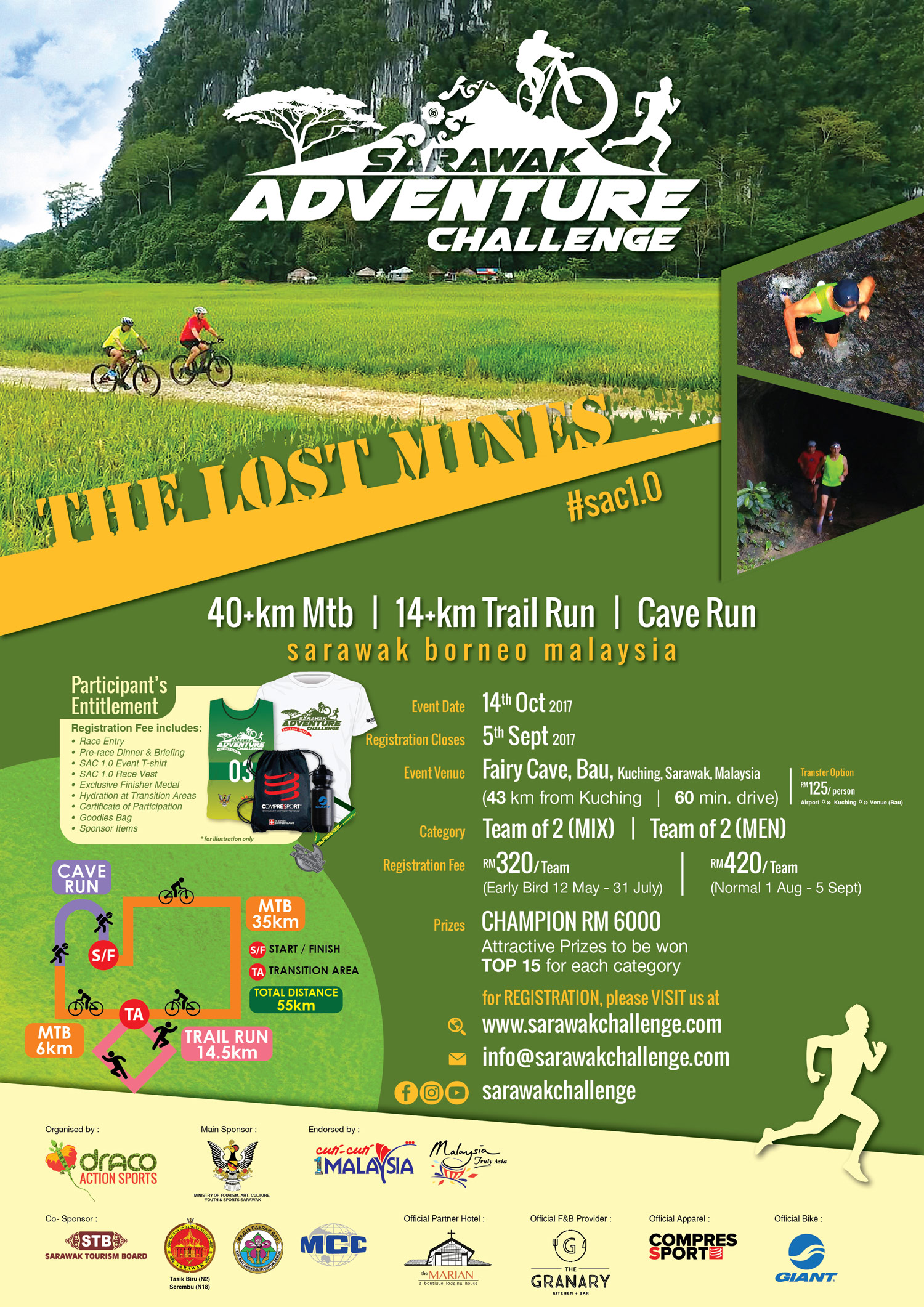 Participant's Entitlement
Registration Fee includes:-
Race entry
Pre-race dinner & briefing
SAC 1.0 Event T-shirt
SAC 1.0 Running Vest
Exclusive Finisher Medal
Hydration at transition areas
Certificate of Participation
Goodies Bag
Sponsor Items
Transfer Option
(RM 125 / person)
For those who required airport transfers and transport to the run site, a Transfer Option of RM 125 per person is available. This includes return airport transfers, transport from Kuching to and from the event venue. For those booking the transfer option, we will require the participant's flight schedule no later than 14 days before the event (i.e. 30th September). Participants are encouraged to stay at the Official Event Hotel or somewhere close by for easy drop off of bicycle to and from the event venue.