Siniawan
Siniawan is well known for its weekend market offering a splendid variety of food and drink. Perhaps not so well known is Siniawan's place in history and the attractions of the Serumbu Mountain, also known as Bung Muan by the local communities. Siniawan has long been an important gateway to the Bau area and was one of the early places visitors in the late 1800's came to on trips to Sarawak. This included trekking up Bung Muan to visit the three communities that were located there. Among the famous visitors was a collector named Alfred Russell Wallace who spent time near the summit in a camp collecting insects. He reported his observations and theories on species variations and these were later presented to the Royal Geographic Society in London alongside another researcher named Charles Darwin. A replica of the Rajah's cottage where Wallace stayed provides a reminder of Sarawak's role in science.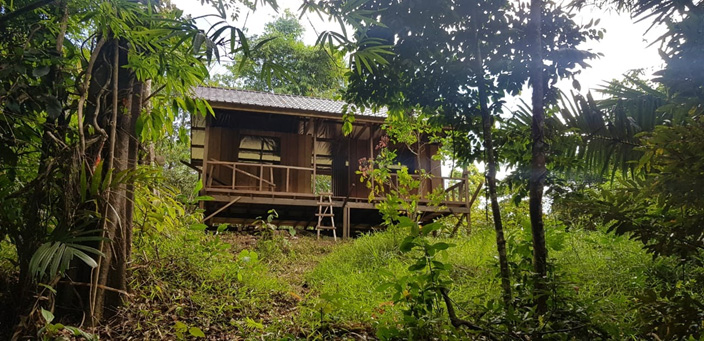 Photo of Brooke Cottage at Peninjau
The SAC Evolution Trial aims to promote the variety of attractions and tourism options in and around the Siniawan area. Starting at Siniawan bazaar, the competition route will pass by many well known and new and developing attractions for tourism and recreation in the area. These include:
Siniawan Old Town and the Night Market
Alfred Wallace Cottage (re-built)
Paku Hotspring (new)
Merembeh Caving Park (new)
Serembu Eco Resort (new)
MTB and Running Trails around Mount Serembu and Siniwan
Location
Location: Siniawan, Bau
Getting there
Siniawan Town is 27 km from Kuching, before Bau Town. The driving time is around 35 minutes from Kuching.
For those arriving from out of state, a 6 seater Grab from Kuching to Siniawan (one way) is RM 75. That could conceivably take 2 persons and bikes. If there are a few more of you, you can even think about hiring a van from a local transport company. Let us know if you need this information. If you wish to carpool, we can share your contact and arrival information on the website (a special section) so that others who arrive at a similar time can contact you to share the transport.
Accommodation
If you wish to stay in the area, there are some hotel / homestay options available around Sinawan.
Siniawan Heritage Hostel – 082-699 996 / 019 8873344 (Mr Bong)
Serembu Eco Park – 019 8548444 (Mr Lai)
Kuching New Buddhist Village – 082-699 816