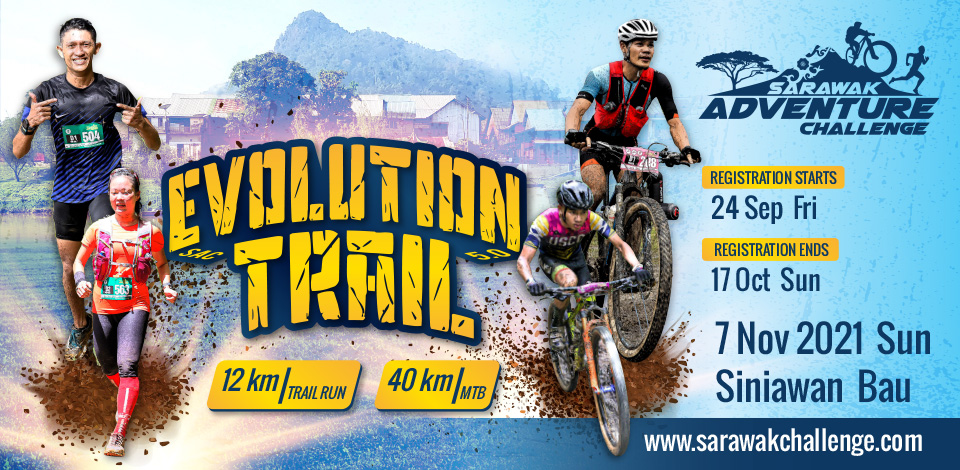 Kindly CLICK for more info
We Are Back!
The Sarawak Challenge is back and ready with a new trail to test your endurance and take you to parts of Sarawak that you might not have seen before. This fifth edition continues as a one-day multi-sport adventure race showcasing some of the best rainforests, rivers, trails and sites including (for this year) some of Sarawak's fascinating history.
The venue for the start of this year's race is Siniawan Village, located some 20 km from Kuching. The race theme is "The Evolution Trail" - a reference to the mountain of Bung Muan that dominates the scene. This mountain has a long history with the local communities and was also an important research site for the explorer, Alfred Russell Wallace. History aside, the mountain provides a beautiful backdrop for the XC MTB and some challenging trails for the event running categories.
Siniawan town has become famous for its weekend market and the annual events held there. However, this town has a long history and was an important gateway to the Bau goldfields and mines as well as to the communities located on Bung Muan, the mountain lying behind Siniawan. Early visitors to Sarawak included a trip to Siniawan and a trek up the mountain to stay with the communities there. One of these visitors was Alfred Russell Wallace who established a camp near the summit to collect insects. He summarised his observations about changes in species in a paper that was presented with another collector's observations, Charles Darwin. The theme of this year's race is a nod to the part Sarawak played in Wallace's paper ' "The Evolution Trail".
To encourage more participation, the SAC has expanded the number of race categories. For 2021 there will be 14 race categories including the signature Duathalon as well as Sprint Duathalon, individual MTB, Trail running and veterans events. Due to time constraints in obtaining funding and confirming the event, there will be no early bird pricing this year. The registration Cut-Off date is 17th October 2021 (Sunday).
KEY DATES
Event Launch / Registration Starts : 24th September, 2021 (Friday)
Registration Ends : 17th October, 2021 (Sunday)
Event Date: 7th November, 2021 (Sunday)

Sign Up & Be Thrilled!
Find out more about Race Format, Registration and Prize Money
Addressing Covid-19 Concerns:
In view of the on-going Covid-19 pandemic and the SOP imposed by
Sarawak Disaster Management Committee (SDMC)
and to ensure the safety of all participants, a number of measures will be implemented. Participation will be restricted to Malaysians or non-Malaysia residents (with work permit) with a limit of 250 participants. All participants must be fully vaccinated and show proof of vaccination status.
On Race day, the race registration will adhere to the standard SDMC Covid-19 SOP such as MySejahtera registration and vaccination confirmation, temperature checks, sanitizing hands, social distancing, isolation areas etc. To ensure social distancing during the race, the start times will be staggered with limited numbers for each starting wave. There will also be strict access control to the registration area / start / finish and transition areas. Times for all participants in all categories will be monitored using an ELECTRONIC TIMING SYSTEM to allow for accurate race timing (in spite of the staggered start regime). There will be no Pre-Race Welcome Dinner and Briefing for the Duathlon categories this year. In the situation when this event is cancelled, it will be rescheduled and postponed to a later date. For those who travel into Sarawak, please also check out the latest
SDMC
Sarawak entry requirement.
Find out more about SOP, Race Rule
Throwback - SAC 2020: The Jade Cave