Special passes for content creators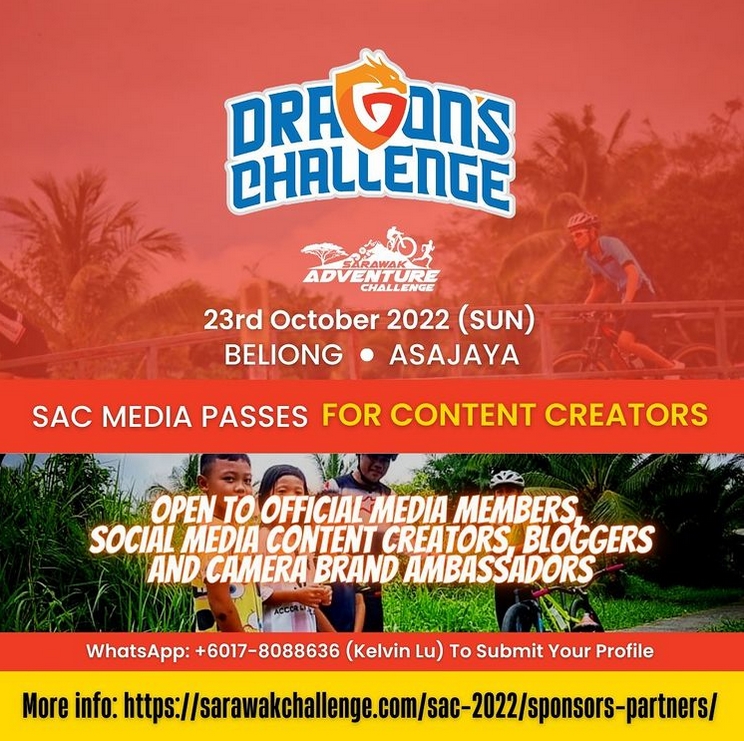 This year we introduce a special pass for members of our media. (Open to official media members, social media content creators, bloggers and camera brand ambassadors).

There will be passes with all area access and unique sites for you! If you wish to ride, you will enjoy 25% off your registration fee should your application be accepted by the organizer.

There will be a special total prize of RM 800 for the Best Video (RM 500) and Best Photo (RM 300).

All* are welcome!! #sarawakadventurechallenge2022 #sac2022

(*Subject to accreditation vetting and limited slots).
https://www.instagram.com/p/CiZ4VTYs4fy/?igshid=MDJmNzVkMjY=

Ground Transfer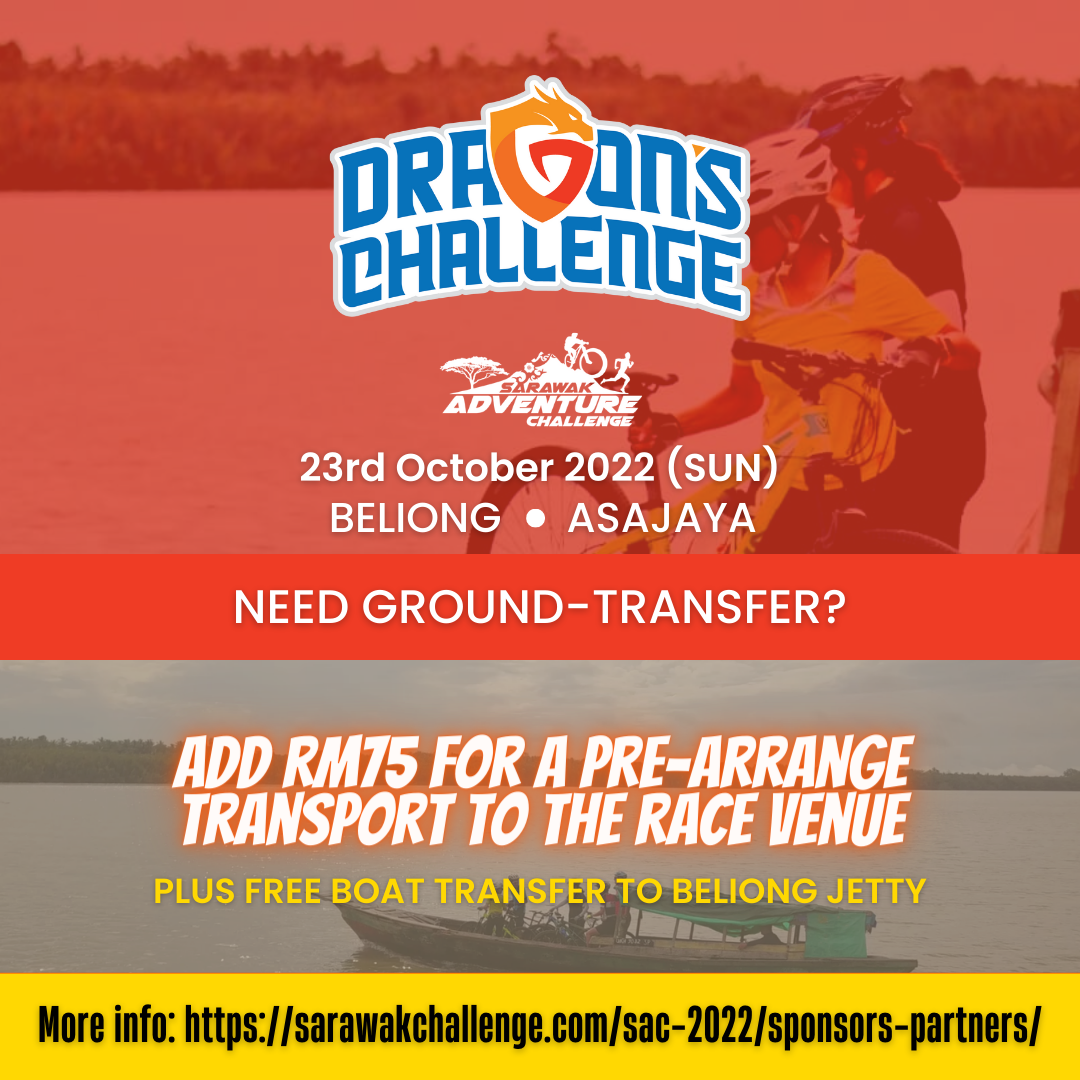 Not sure how to get to the race venue? Worried about your bike logistics? Fret not, as we have you covered, all the way to our boatman; so you can focus on winning the Dragon's Challenge, for only RM 75 / return trip (Official Hotel – Beliong).

Transfer of Participants and / or Mountain Bike
5:30 am Roxy 3rd Mile – Beliong
4:00 pm Beliong – Roxy 3rd Mile

RM 75 per return trip for (participants with / without bicycle) – Please book directly https://bit.ly/register-sac2022-now
(Category: Race Day Return Transfer (Official Hotel – Beliong)).
Official Hotel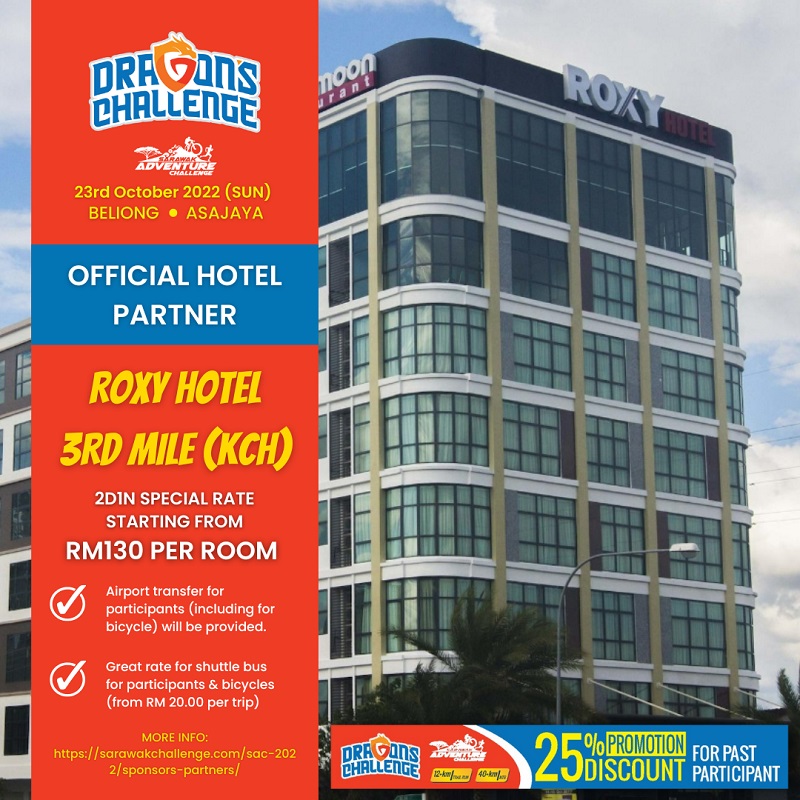 We are pleased to announce our official hotel partner, Roxy Hotel 3rd Mile, Kuching is on board with the Dragons Challenge this year. They are offering a special rate starting from RM130 per 2D1N room, and airport transfer (w bicycle of RM 20 / trip). #sarawakadventurechallenge2022 #sac2022

For preferential hotel rate and airport transfer (including bicycles) booking, please email: roxyhotelkuching@gmail.com and specify "Sarawak Adventure Challenge". For details of the hotel rates, check out: https://sarawakchallenge.com/sac-2022/sponsors-partners/

Registration closing date: 18th September 2022.
Accommodation Corporate Rate
| | | | | | | |
| --- | --- | --- | --- | --- | --- | --- |
| Room Category/Remarks | Arrival Date | Departure Date | No. of nights | Unit's/Rooms | Unit Price (MYR) | Total Charges (MYR) |
| Deluxe Queen with 2 Breakfast | TBA | TBA | 1 | 1 | 130.00 | 130.00 |
| Deluxe Twin with 2 Breakfast | TBA | TBA | 1 | 1 | 130.00 | 130.00 |
| Deluxe Triple with 3 Breakfast | TBA | TBA | 1 | 1 | 180.00 | 180.00 |
| Apartment for 6 persons with Breakfast | TBA | TBA | 1 | 1 | 290.00 | 290.00 |
| Apartment for 5 persons with Breakfast | TBA | TBA | 1 | 1 | 260.00 | 260.00 |
| Airport Transfer Vice Versa (less than 5 persons) | TBA | TBA | 1 way | 1 person | 20.00 | 20.00 |
| Airport Transfer Vice Versa (6 persons to 9 persons) | TBA | TBA | 1 way | TBA | 40.00 | 40.00 |